Academic plagiarism is a serious issue that can have severe consequences for students, researchers, and educators alike. With the advent of the internet, it has become easier than ever to copy and paste text from various sources without proper citation, resulting in a surge of plagiarism cases in recent years.
Committing academic plagiarism is no small matter. It has serious consequences for the perpetrator. A perfect example of academic plagiarism is Senator John Walsh, whose postgraduate degree was revoked due to plagiarism found in his thesis. In fact, with the rise of other technology-driven applications, such as artificial intelligence (AI), the number of academic plagiarism cases has jumped recently.
So, in response to this trend, there are many online plagiarism-checking tools have been developed. One of them is the Editpad plagiarism checker.
What is Editpad?
Editpad is an online text editor that allows users to edit plain text in their browsers without needing to install any word processing software on their computers.
Just like that, Editpad also offers some different tools for students that are found very helpful for them, like its online plagiarism checker.
This tool utilizes advanced artificial intelligence (AI) in its algorithms in order to scan the text over billions of sites and eBooks in a matter of seconds. But the real question that comes to mind regarding this tool is: Does this tool really detect academic plagiarism in write-ups?
So, let's find out, but first, let's talk about why students need to check for plagiarism in their assignments, research papers, or any other type of write-up.
The Importance of Checking for Plagiarism in Academic Writing
There's always a need to look for plagiarism, whether you have taken some part of the text from an online source or writing your own. As a student, we know that you have a burden of work that you need to complete in a very short interval of time.
So, in that case, some students, while doing research or gathering data for their assignment or research papers, copy someone else text and use it as their own without crediting the original author, which leads to plagiarism. That's why there is a need to check for plagiarism in your writing.
Here're some reasons why you need to check academic plagiarism with the help of Editpad and other plagiarism detectors available online:
Ethical Consideration: Plagiarism is considered unethical behavior because it involves taking credit for someone else's work without mentioning them. From a different point of view, it can be seen as a form of theft. It's widely regarded in the academic world that committing plagiarism is a highly immoral act that no student or academic professional should ever commit.
Legal Consideration: In some cases, plagiarism can result in legal consequences, such as copyright infringement. This can be especially problematic for researchers who use copyrighted materials without permission or proper reference.  Further, there are higher education institutions that legally sanction their faculty members and/or students who commit the act of plagiarism ranging from suspension to removal from their current post.
Lack of Originality: As you know, plagiarism is defined as copying/pasting others' text, which means if it is present in your academic write-ups, then your writing isn't original. The only purpose of academic writing is to express one's own ideas and perspectives, and plagiarism undermines this fundamental goal. It can even be said that plagiarism is the number one enemy of progress and of what education is trying to achieve.
How Does Editpad Work to Detect Academic Plagiarism?
As previously stated, Editpad's algorithms use advanced AI to scan the given text across billions of websites and eBooks and find any matched results.
To use this tool, simply copy/paste or import your file in the given box of the tool. After that, choose your specific language, and then click on the "Check Plagiarism" button, and then the tool will take over the rest of the work.
The database of this tool contains a wide range of sources, including websites, academic journals, research papers, blogs, articles, .pdfs, essays, and other written work. Then, the tool highlights any similar text it finds in your text.
Along with this, the Editpad plagiarism checker not only highlights the plagiarized text but also provides the link of the source (from where the text is matched) that you can also use for reference or citation purposes. Let's demonstrate this well to you with an example.
For this, we have taken the text from a random site and pasted it into the tool. The results generated by this tool are shown below.
Key Features
Moving on, let's take a look at what key features Editpad's plagiarism checker offers.
Free to use for up to 1000 words
14 languages supported
User-friendly interface
No sign-up required for free users
A downloadable pdf report of results
Provide links to matched sources
Possibility to exclude a specific URL
Upload files in doc, docx, pdf, or txt formats
Pricing Plan
The Editpad plagiarism detector is a freemium tool that users can also use a free user.
What's a freemium tool? It's a business model that companies use that combines both the features of 'free' and 'premium' offerings. In simpler terms, when you avail of a freemium tool or service, you get to enjoy a list of basic features that make it useful. If you want the full plethora of features available, you need to upgrade your subscription.
Editpad's paid subscription offers plagiarism detection. But in its free version, you are only allowed to detect plagiarism in 1,000 words at a time. However, this limit will be increased to 3,000 in the premium version of this tool. The premium version of this tool offers two subscription plans, i.e. Basic and Pro. Each of them offers four different variants. You can choose any one of them according to your need and budget.
Basic Plan: Up to 1500 words of plagiarism checker word limit, which is good for those students who are on a low budget.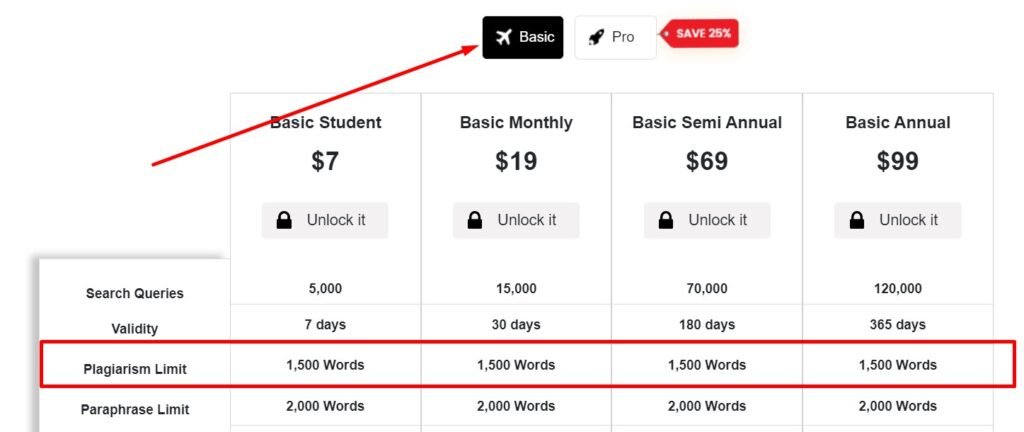 Pro Plan: Up to 3000 words of plagiarism checker word limit, which is good for those students who have lengthy academic papers.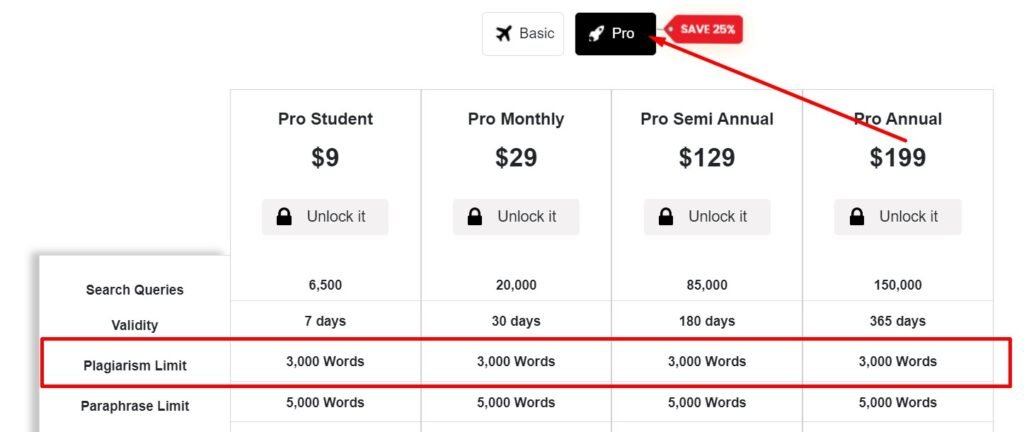 Conclusion
So, this blog was all about whether or not the Editpad plagiarism checker can detect academic plagiarism. We have given the best answer with proof and show you that this tool really detects plagiarism in academic write-ups.
However, it's a freemium tool that you can also utilize as a free user but with some limitations. If you want to purchase their premium plan, then you can get it according to your need and budget. They also offer a separate student package, which is cheaper than other premium packages.
What are you waiting for today? Take advantage of Editpad and its plagiarism check and detection features to aid you in your academic writing work.